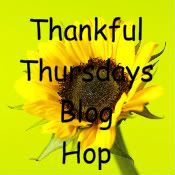 Watch me, getting all creative and stuff.
I thought that I would start my own Blog Hop (thanks for the idea,
Tenetia
!). It might turn out to be a blog FLOP, but you never know.
And what better thing to have posted ALL over the internet than a bunch of entries on what people are thankful for?
So, here's my idea- Thankful Thursdays Blog Hop. Before you write, though, here are the rules:
1. Don't follow me unless you really want to. I don't want this to be purely about getting new followers- I'd really like to see people flooding the internet with "Thankful" posts. If you'd like me to follow YOU, though, let me know.
2. Please post the button somewhere in your entry- beginning, end- doesn't matter. Not only will it help to grow the hop, but I'll be keeping a running PUBLIC list of those that are participating. Also, I'm planning on using new co-hosts for the hop in the future, and to be considered, you must have the button up. If you post the button and would like to be considered for co-host duty, send me an email @ asoto0703@gmail.com
3. You can link up blogs, facebook and twitter accounts - just be sure to specify what each link is.
4. Hop around and find blogs that you enjoy. Be sure to tell them you are following them from Thankful Thursdays Blog Hop so they can follow you back!
And #5 and most importantly, HAVE FUN.
I'm posting my actual 'Thankful Thursdays' entry next, so be on the lookout!