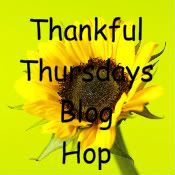 To recap the rules for Thankful Thursdays, here ya go:
1. Don't follow me unless you really want to. I don't want this to be purely about getting new followers- I'd really like to see people flooding the internet with "Thankful" posts. If you'd like me to follow YOU, though, let me know.
2. Please post the button somewhere in your entry- beginning, end- doesn't matter. Not only will it help to grow the hop, but I'll be keeping a running PUBLIC list of those that are participating. Also, I'm planning on using new co-hosts for the hop in the future, and to be considered, you must have the button up. If you post the button and would like to be considered for co-host duty, send me an email @ asoto0703@gmail.com
3. You can link up blogs, facebook and twitter accounts - just be sure to specify what each link is.
4. Hop around and find blogs that you enjoy. Be sure to tell them you are following them from Thankful Thursdays Blog Hop so they can follow you back!
And #5 and most importantly, HAVE FUN.
First off, I would just like to say that- even though I haven't written a Thankful Thursday blog hop in almost a month- that doesn't mean I haven't been thankful for things. I'm thankful for a LOT of things:
~Netflix
~peace and quiet (or does that count as two?)
~my God given talents for cooking and baking (without it, we'd be broke and living on the streets... ok, so at least we have a home...)
~duct tape...
But I think most of all, Ive been thankful that, even when I go on a hiatus due to my mind being elsewhere, I have you- the great blog-o-sphere- to come back to.
But, this is not what I'm thankful about today.
Nope, today, I'm thankful, grateful, and thanking God above...
for baby gates.
Yes, I said it. I could have touted my love for my husband, my life, -even COFFEE!-, but no.
Baby gates.
If you have ever had a small person that likes to crawl around on all fours and disappear for great lengths of time in other rooms and come out chewing on God-knows-what, then you should understand. When one of those rooms just HAPPENS to be the bathroom where the cat box is located, well, then I REALLY hope you understand.
Baby gates give me peace of mind when my mind is going to pieces. I suppose one could argue "Why do you need baby gates when you should be watching your baby at all times?" And to that person, I say Bravo!...
...you must be the only person on the planet who never went to the bathroom or had to make coffee while being the sole care provider.
Hey- when a gal needs coffee...
I'm just sayin'- baby gates have immeasurable value and should be put on a pedestal with other great inventions- like ice, fire, and sliced bread.
Ok, so ice and fire aren't really INVENTIONS, but you get the picture.
So, kudos to you, Mr. Graco and Mrs. First Years. The day you came up with those beauties was one small crawl for babies and one giant leap for Mommy kind.
And for that, I am thankful.