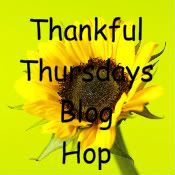 To recap the rules for Thankful Thursdays, here ya go:
1. Don't follow me unless you really want to. I don't want this to be purely about getting new followers- I'd really like to see people flooding the internet with "Thankful" posts. If you'd like me to follow YOU, though, let me know.
2. Please post the button somewhere in your entry- beginning, end- doesn't matter. Not only will it help to grow the hop, but I'll be keeping a running PUBLIC list of those that are participating. Also, I'm planning on using new co-hosts for the hop in the future, and to be considered, you must have the button up. If you post the button and would like to be considered for co-host duty, send me an email @ asoto0703@gmail.com
3. You can link up blogs, facebook and twitter accounts - just be sure to specify what each link is.
4. Hop around and find blogs that you enjoy. Be sure to tell them you are following them from Thankful Thursdays Blog Hop so they can follow you back!
And #5, and most importantly, HAVE FUN.
I'm going to have to start referring to this as Thankful Friday with how late I seem to be getting my posts up. It never seems to fail that I sit down at the computer after a long day of taking care of Baby Monkey Boy, than something else pops up for me to take care of. I'll never complain, though...
...ok, I won't complain A LOT.
I won't complain a LOT because I'm doing what I love.
Well, ONE of the things that I love. Taking care of these animals is right up there for me along with baking, cooking, and breathing.
I had always wanted to be a mom, and being a stay at home mom was a dream- not because I'm lazy (F.Y.I. if you're one of those 'uninformed' individuals, go read my post
HERE
), but because I was afraid. There were stories all over the place about bad day cares and bad home day cares, bad nannies, bad, bad, bad. There still are,actually. I hadn't been able to be a stay at home mom with Camo, but I was determined to do it with Jacob. Luckily for me, my amazing hubby felt the same way.
We knew it wasn't going to be easy- mentally or financially. The funny thing is, though, when you REALLY want something in this life, you usually find a way to get it. When you're strapped for cash but you know your electric bill is due, you find a way to pay it... if you aren't fond of camping. We wanted to know who was raising our kids and what kind of values they were being raised with, so regardless of what else it cost us, we made the necessary sacrifices to do it.
I know that there are lots of people out there that feel the same way I do, but they aren't able to find a way to make it work, so that's why I'm thankful. Whether its because all the stars aligned JUST SO and that's why we found a way (doubt it) or because God just really thinks that this is what my family needs for our boys right now (more like it), I get to do something that has a special purpose in this life.
How many other people can say that?
And, while there are more than a few days that leave me breathless in a bad way, there are also days that leave me breathless in a good way too.
So, today I'm thankful.
For an amazing hubby that felt the way I did enough to let me do this.
For 3 amazing kids that look to ME to take care of them every day.
And for all those breathless moments that make being a stay at home mom worth it.