Happy Friday everyone and welcome to the first
Getting to Know You Friday Blog Hop
! Thanks for stopping by!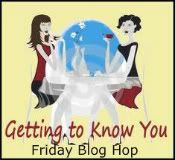 Question of the week: What are the blessings and challenges of being a woman/man?
Welcome to the Getting to Know You Friday Blog Hop hosted by: Amber from Confessions from Boystown, Jennifer from mamawolfe, Christina from Spilled Milkshake, & Lisa from insignificant at best.

The idea behind the Getting to Know You Blog Hop, is just that...getting to know you. We also thought it would be a good chance to share thoughts, experiences & lessons learned from life. All 4 of us met through a great little site (Voiceboks) which is founded on -not just promoting blogs- but actually caring about other bloggers, getting to know them, and making friends along the way. That's why I think this blog hop is a great idea- cuz it goes along with that same general ideaology.

So, to keep things orderly and with minimal confusion (we hope), here are the rules:

1. Since there are 4 hosts we thought it was fair to only require you to follow 2 of us. Each host has been partnered with another host. We ask that you follow the host who's blog you submit your link to & their partner, the other 2 hosts are optional. The partnerships are:

Confessions from Boystown with mamawolfe
Spilled Milkshake with insignificant at best

(ex: If submit your link on Confessions from Boystown. You are required to follow Confessions from Boystown & mamawolfe. It is up to you whether or not you'd also like to follow Spilled Milkshake & insignificant at best.)

2. Each week we'll have a new question for you to answer. Write a blog post answering that question & link directly to it in the linky below!

3. Include our blog hop button in the post.

4. Visit a minimum of 3 other blogs & leave a MEANINGFUL comment on their Getting to Know You post. Please do not just go to 3 blogs & ask them to follow you. Everyone is taking time to their thoughts, so please be respectful of that.

5. Have fun getting to know one another! :)

The linky will be open until Sunday evening to make sure everyone has time to write their posts & link up!

If you have any questions or would like to suggest a question for the blog hop please contact one of the hosts! If your question gets picked we will feature your blog & question in that week's hop!